Oculoplasty Surgery in Delhi
Ophthalmic plastic surgery is a specialized branch of ophthalmology that deals with deformities, masses, and cosmetic concerns of the structures around the eye. It is a specialized form of plastic surgery that is so close to the eye that you would want to trust an Oculoplastic surgeon.
Eye and facial plastic surgery can change your life by enhancing your features, restoring normalcy, rejuvenating your appearance, and most importantly, boosting your self-esteem!
The oculoplastic surgery in Delhi may be needed for procedures like:
Bepharoplasty: The surgery is done to remove the excessive skin hanging down over the eyelid till the eyelash that may or may not be a hindrance in vision.
Droppy Eyelid (ptosis): This condition is caused due to injury in the muscle, or due to muscle disorders, nerve disorders. It may also occur because of congenital defect or due to aging. This conditions leads to drooping of upper eyelid. In children, this requires an early detection and early cure or it may lead to lazy eye. On the other hand, in adults if it is a severe condition this may lead to obstruction of vision and may give you a tired and aged look.
Surgical treatment is available for droppy eyelids ( ptosis)
---
---
Entropion: This condition is caused when the eyelid turn inward or droops and rubs against the Eyelash. This may lead to infection, a continuous tear dropping. It may also damage vision and may cause dispairment.
An Oculoplasty surgeon can easily cure this condition through surgery in the supporting areas.
---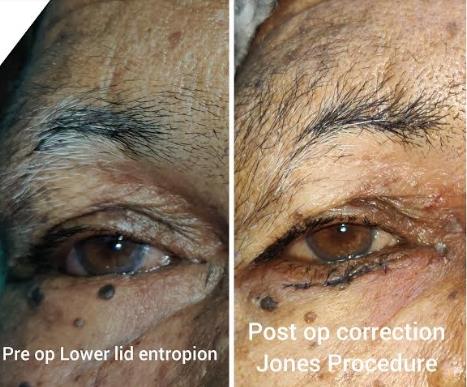 ---
Ectropion: The lower eyelid that turns outward.
This disorder may cause redness in the eye, may lead to infection and irritation or it may lead to crusting vision. It may also damage the cornea and cause impairment.
This condition is caused due to some injury or facial ageing, tumour or because of Facial nerve palsy (bell's palsy).
An oculoplastic surgeon can correct it by making the necessary changes in the eye tissue and muscles supporting the eyelid.
---

---
Eye Lid Tumors –
Skin cancers are very common in the eye lids and may need medical and surgical attention by an oculoplastic surgeon for removal and lid reconstructions.
Lacrimal Drainage system Disorders –
Dacryology deals exclusively with watering of the eyes and disorders of the tear drainage. Any disorders affecting this system can lead to impaired tear flow with resultant watering, infections (Dacryocystitis) and sometimes even orbital infections.
At healing touch eye hospital we are equipped for surgical management DCR or dacryocystorhinostomy , a surgical procedure that creates an alternate new pathway for irreversible tear duct obstruction, thereby relieving watering. It can be performed via skin approach, or through the nose using special endoscopes.
Lacrimal Gland tumors and surgical Management
Enlargement of lacrimal gland can cause protrusion of the eyeball , can cause visual loss an early detection and surgical management along with medical oncologist opinion is needed .
An Oculoplasty surgeon can easily cure this condition through surgery in the supporting areas.
---
Pleomorphic Adenoma of Lacrimal Gland
Thyroid orbitopathy
Thyroid eye disease (a condition of Graves' disease or hyperthyroidism) causes the eyes to bulge forward and the eye aperture to widen. It can lead to double vision, swelling around the eyes, discomfort, and in severe cases loss of vision. The initial (active) phase of thyroid eye disease involves frequent swelling of tissues around the eyes, double vision, and even reduction in vision in severe cases. Active phase is treated with medications (commonly Steroids) to reduce the swelling. Fortunately, the active phase of most thyroid eye disease patients ends in 18-24 months. However, the deformities (raised eyelid, prominent eyeball, or squint) may persist, and require surgery in the second (inactive) phase.
Facial Palsy
Damage to the facial nerve can cause weakness of facial muscles on the affected side along with inability to close eye lids leading to dryness, infection of eye and loss of vision An oculoplastic surgery can correct the condition with temporary and permanent surgical options to achieve cosmetically acceptable eye closure with no surgical scars.
Artificial prosthetic Eye
Injury as well as, certain disorders such as Cancers can lead to loss or removal of an eye. While the vision cannot be restored, the appearance can be brought back to near normal, by customized artificial eyes (prosthesis). An artificial eye is a prosthesis or a device that fits within the socket, behind your eyelids. It mimics the natural eye, and is painted exactly like your natural eye. Insertion and removal is easy, and one has to clean it once a month. The eyelids can comfortably close on the artificial eye, giving it a natural look. Occasionally, if the pouch behind the eyelid (that holds the artificial eye) is shrunken, one may require a surgery prior to the fitting of an artificial eye.
Anophthalmic socket
Bepharoplasty: The surgery is done to remove the excessive skin hanging down over the eyelid till the eyelash that may or may not be a hindrance in vision.
Oculoplasty Treatment in Delhi
At Healing Touch Eye Centre, we have the trained experts and surgeon for oculoplasty treatment in Delhi. We provide the oculoplastic surgery in Delhi at best price.